Aurora
Fall / Winter 2021-2022 Collection
Aurora, the Dawn of a New World
Echoing the new world on the verge of which we now stand, the Aurora collection celebrates the union of the elements and fashion as well as the harmony between mind and body. Aurora awakens hope and set free our inner feminine fire for a more conscious future. This sustainable and timeless wardrobe is exclusively made of certified natural materials for a feminine and elegant silhouette in the heart of winter.
Celebrating Spiritual Awakening in Color
The assertive shades of the collection surround the Olistic woman with an aura of mystery. Amethyst, amaranth and taupe evoke the first light of dawn as well as a wet ground, a fertile soil for promising tomorrows to grow. Purple, the color of spiritual awakening associated with our crown chakra, invites us to follow our intuition.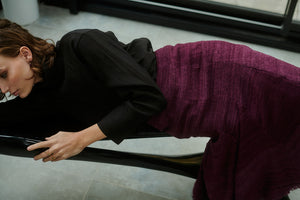 Natural Fabrics Animated by the Artisanal Gesture
The ahimsa silk tweed, handmade by a community of Indian women, enhances the craftsmanship and lends its refinement to tasseled skirts and fringed pants. Olistic the Label's signature crepe, made from cruelty-free silk, becomes more matte for discreet sophistication. Sensitive to our desire for softness, Olistic knitwear line is a cozy cocoon designed for our inner lives as well as for the outside world. Made in Italy from certified wool and cashmere, these sweaters, pants and accessories are adorned with English ribbing, a promise of comfort and refinement. Timeless and sustainable, Olistic fashion promotes the circular economy by offering a second life to luxury houses deadstock wool. The plaid print turns into irresistible skirts and tops, or into androgynous jacket and trouser suits.
A Trend-Proof Stylistic Signature
Committed to seasonless fashion, Olistic is reediting the pieces that made its success. Olistic x Arizona Muse capes, long dresses and crop tops, handcrafted in Burel wool or made in eco-friendly lyocell, have become our fashion essentials and naturally join the new pieces of the Aurora collection. Being sustainable also means knowing how to appreciate and cherish the existing rather than continually reinventing it.